Get an instant online auto glass quote below, or call 877-745-2774.
You will be able to schedule an appointment online at the end of the quote process.
Get A Quick Quote Today!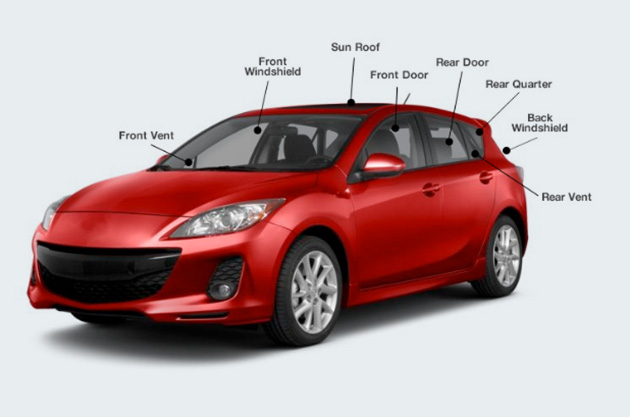 Windshield Repair
Our service centers are locally managed and serve as an operations center for our sales representatives, customer service representatives, and mobile technicians. Our trained staff will be personally handling your glass claim instead of some nameless operator working in a giant call center hundreds of miles away.
Fix the chip before it is too late
Fixing a small chip now can save you the hassle and cost of replacing the entire windshield later.
Repairable Windshield / Windscreen Chips

A good rule of thumb in determining whether you can safely repair your windshield:
The crack is smaller than a credit card
The crack is not in the driver's line of sight
The crack does not go all the way through the glass
If the above is not true, you will need to get a quote for the replacement of the windshield.
Makes and Models Covered
Glass America is proud to provide auto glass, windshield repair, and windshield replacement services multiple makes of vehicles including but not limited to:
Acura
Aston Martin
Audi
Bentley
BMW
Buick
Cadillac
Chevrolet
Chrysler
Dodge
Ferrari
Fiat
Ford
Freightliner
Geo
GM
GMC
Honda
Hyundai
Infinity
Jaguar
Jeep
Kia
Lamborghini
Land Rover
Lexus
Lincoln
Maserati
Mazda
McLaren
Mercedes Benz
Mercury
Mini Cooper
Mitsubishi
Nissan
Oldsmobile
Peugeot
Pontiac
Plymouth
Porsche
Ram
Saab
Saturn
Scion
Smart Car
Subaru
Suzuki
Tesla
Toyota
Volkswagen
Volvo